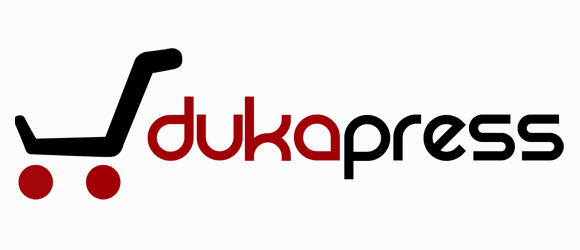 DukaPress is a simple and free WordPress e-commerce system. It is open source. With DukaPress you can quickly and easily set up a fully featured online shop which can be used to sell digital or physical goods to customers all over the world.
The main reason why we chose to build DukaPress instead of using already existing platforms was because no other WordPress based e-commerce tool provides its users with what we feel are essential features of an e-commerce system. With DukaPress, we have made these features both free of charge and simple to use.
E-commerce Features
You can use DukaPress to sell:
Tangible regular products
Tangible products with selectable options (size, colour, etc)
Digital products
E-commerce Modes
Regular mode: sell digital and/or physical products just as normal
Catalogue mode: just display goods without the option to sell them on your site. Instead viewers are presented with a way to contact the shop owner.
Other Features:
Easy to implement 'related' products feature to encourage cross-seling and up-selling
Supports 'checkout as guest'
One-page checkout
Simple inventory tracking
Custom product search widget
Printable bills/invoices
Front end customer login and registration and protected custom client account area
Coupon/Voucher Codes
The coupons can be set to be One-time use or multiple use
You can manage all your coupons in one place
You can have an unlimited number of coupons
DukaPress supports several payment options
Paypal
Authorize.net
Worldpay
Alertpay
Bank transfer
Cash at store
Cash on delivery
Shipping/Delivery options:
Free delivery
Flat rate delivery
Flat Limit (same as flat rate but above a certain amount shipping is free)
Weight-based flat rate system
Delivery charged 'Per item'
Other features:
Order Management features:
View details of each order received
Manually send emails to customers
Print order invoices
Change status of each order
View simple sales statistics
Upcoming Features
These features are not yet available but we're working on them (or thinking about them).
Tangible products with price-affecting options (e.g 'build your own PC' or 'buy a three-piece suit')
Affiliate management system
Supplier management system – whereby third parties can list their goods for sale in your shop and track sales
Customer wishlists
WordPress Multisites support
Improvement of the mobile payment processing to enable any mobile payment system in the world to work
and others…
Find out more about VirtueMart eCommerce plugin for WordPress at dukapress.org
Powerful viral features such as FanGate or ShareGate help you grow your fan base virally.
It's created with the user in mind, making it really simple to set up and manage your pages using WordPress.
In just a few clicks you can easily customize the layout and design to your needs.
What Is WordPress?
WordPress is web software you can use to create a beautiful website or blog. We like to say that WordPress is both free and priceless at the same time. (WordPress.org)
CustomPages.ca build Viral Facebook fan pages using WordPress. The advantage is that users can update/edit their custom pages without web design or web development knowledges.
Features
Fan Gate
FanGate shows a different page to non-fans who visit your page. When they click the Like button, the content changes to something just for fans. This is a great feature for special offers, discount codes, free gifts, etc.
Share Gate
Using ShareGate, you can easily select pages that will only be visible after the user posted a message about your fan page on their wall. This way, you can easily trade viral publicity for a freebie, such as an ebook, coupon or other promotional offer.
Invite Gate
Using InviteGate, you can easily select pages that will only be visible after the user invited one or multiple friends to the fan page. This is ideal for getting more targeted users to your fan page.
Viral Comments
You can easily implement viral comments within your custom fan page. When a user posts a comment, a message that links back to your fan page will automatically be posted on their wall, generating massive viral traffic.
Customizable Design
Whether you want to use an out-of-the box template or your own design: you can simply customize the layout without touching any of the code.
Slideshow
Do you want to impress your visitors with something special? We've implemented a stunning image slider for you to include on your fan page.
Easy To Use
CustomPages.ca will create custom pages with the users in mind. We made it very easy to use, without cutting down on it's features. You can have your fan page up and running in minutes.
Easy To Edit
We will provide you a login to your custom page WordPress platform and training about how to edit your: pages, munus, slides, images…all features.
Insert Media & Maps
It's easy to implement all kinds of media to your fan page. Whether you want to include YouTube videos, photos or Google Maps.
Custom Pages Examples
PHP inventory system is made for the small, medium or large Canadian companies. Among several benefits offered by the use of our PHP inventory system here are the 10 reasons that make our php inventory software the complete solution for your Canadian company:
PHP Inventory System is web based software (built using PHP/MySQL/AJAX) so you have control from anywhere
Our PHP inventory software is used in production since 2004 and is constantly improved
Modular structure allows us to customize the software based on your needs
Translate the PHP Inventory System to any language right inside the application
Graphical representations can be sometimes more efficient that thousands of numbers
Barcode generator included. Print your barcodes on regular printers!
Customize access for each user individually
Easy to use Point Of Sale system
Low stock alert
With the Hosted Version you get:
Unlimited number of products and product categories
Unlimited number of transactions (sales, receipts, transfers between locations, etc.)
Unlimited locations and departments
Hosting for your application on our secure servers
Updates such as application improvements and/or bug fixes (the updates will be applied to your account by our technical team)
A number of (2 X the number of user licenses purchased) hours of customization development work per month
Your (own) database will be watched permanently and optimized periodically by our technical team
Full Email/Skype/Gmail support
With the Standalone Version you get:
Unlimited number of products and product categories
Unlimited number of transactions (sales, receipts, transfers between locations, etc.)
Unlimited locations and departments
Updates such as application improvements and/or bug fixes (they will be available in the download area on our website)
One year Email support
Installation and configuration of the application on your server (upon request)